ccn | counseling center news
LSW Counselors
Follow Us At:
Counseling Calendar
Tuesday, October 1st

Sophomore Family Meeting @ 6:30 pm

Friday, October 4th

Individual Senior Interviews End

Thursday, October 10th

Final Day for Juniors to Register for PSAT

Tuesday, October 15th – Wednesday, October 16th

Thursday, October 17th – Friday, October 18th
Saturday, October 19th
Monday, October 21st
Saturday, October 26th
Tuesday, October 29th

Freshman Family Meeting @ 6:30 pm

Wednesday, October 30th

Freshmen Small Group Meetings Begin
The Power of Teamwork: Students, Families, Counselors
The Sophomore Family Meeting will be held on Tuesday, October 1st at 6:30 pm in the Commons Area.  Mr. Feeken, efeeken@lps.org,  is the coordinator for this event. The agenda for this meeting includes the following items:
Graduation Requirements
Pre-ACT Test
Activities Resume
Career Exploration
Counselor & Student
Support Services
Breakout Session: NCAA with Mr. Ernst
According to EducationQuest's Exploring College booklet,  the sophomore year is often a time where students begin thinking about the future, but not sure how to get started. One thing to keep in mind is that someone who earns a bachelor's degree from a 4-year college will make nearly $25,000 more per year than their peers who only have a high school diploma.
Five steps that sophomores can take for getting started toward reaching their future goals are as follows:
Ask for Help
Create a 4-Coursework Plan (Available in student's Counseling Google Classroom)
Improve Study Skills
Create an Activities Resume
Learn How to Budget
By following these steps, students are more likely to achieve the following as part of their future plans (College Board: 5 Ways Ed Pays):
Greater Wealth
Job Security
Better Health
Closer Family
Stronger Community
Counselors will meet individually with their assigned sophomores in January, which provides time to discuss the students' short- and long-term future goals,  4-year plans and complete their 2020-21 course selections .
Senior Interviews

Counselors will be finishing their individual senior interviews as Term 1 comes to an end. Seniors have received a packet of information, which focuses on post-secondary planning, to take home and share with their families. Seniors and their families are reminded that October 1st is the starting date for when the FAFSA can be submitted online. Students and one parent/guardian need to apply for a FSA ID to complete the FAFSA process as this serves as their electronic signatures.  Directions for obtaining a FSA ID are available by clicking here to access EducationQuest's Blog.
Seniors, as well as juniors, may use the button shown on the left, which is on the Counseling Center website, to schedule a visit with college reps who will be at LSW. There are also sign up sheets available in the Counseling Center.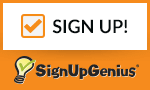 Seniors, as well as other students, and/or their families, who would like to schedule an appointment at LSW with R.J. Vega, a bilingual EducationQuest College Planning and Financial Aid Specialist, may use the button on the right, which is featured on the Counseling Center website to schedule a visit. He will also assist students and families with completing the FAFSA. All services provided by EducationQuest are available at no charge to students and their families. EducationQuest also has an office located at 13th & "O" Street and the phone # there is 402-475-5222.
The PSAT Test for juniors will be given at LSW on  the morning of Saturday, October 19th. This is the Preliminary round for the National Merit Scholarship competition. Registration for the test ends on Thursday, October 10th at 4pm. Registration takes place in the Counseling Center. The cost of this year's test is $25, cash or checks can be made payable to Lincoln Southwest or to Lincoln Public Schools. Please have your student register early as testing spots are limited. If you have questions please contact Mr. Feeken at efeeken@lps.org.
According to The Princeton Review, The PSAT/NMSQT is the Preliminary SAT/National Merit Scholarship Qualifying Test. The PSAT is a great primer for the SAT, and even the ACT, but it's more than just a trial run. PSAT scores are used to identify National Merit Scholars and award merit scholarships. More than 3.4 million high school juniors take this nationwide, multiple-choice test every year. Five PSAT Quick Facts are listed below:
Frequency: Offered once a year
Duration: 2 hours, 45 minutes
Sections: Math, Evidence-Based Reading & Writing
Cost: $25
Max Score: 1520
Click here to learn about Kaplan's Free PSAT Practice Tests and Prep Program. The Princeton Review also offers a free PSAT Practice Test. Additionally, the College Board features 10 free PSAT Practice Tests.
Term 1 Failures
If students know before Term 1 ends that they will be failing a graduation requirement, they need to visit with their assigned counselors to adjust their schedule if they are unable to continue with the second part of the class and/or if the class is a one term course that needs to be taken at a later date.
Students and families are reminded that schedules are complete with the only valid reasons for considering a schedule change request being those listed below:
Seniors need a required class for graduation and/or college entrance requirement
Students have already earned credit for an academic course
Students have not met the pre-req (i.e. Enrolled in Geometry without passing Algebra)
Students have an incomplete schedule (i.e. See Counselor)
The ACT is the leading US college admissions test that measures what students learn in high school to determine their academic readiness for college. Visit act.org to review the following resources:

One important consideration to note is that many colleges and universities such as the Nebraska State Colleges and University of Nebraska system do give more consideration to applicants' GPA than their ACT scores. Post-secondary institutions nationwide also consider it to be a red flag situation if students take the ACT too many times (i.e. over 4) as it indicates that students are trying to achieve a perfect store. Overtaking the test can cause students to not be considered for admissions.
Freshman Family Meeting
The Freshman Family Meeting will be held on Tuesday, October 29th at 6:30 pm in the Auditorium. Freshmen and their families will be introduced to the LSW Counseling Center's Services and Resources. Breakout sessions will feature information on such topics as High School Planning, Stress | Anxiety Coping, and College Planning. For more information, please contact Mrs. Sharpe at bsharpe@lps.org.
Before even considering colleges and/or majors to study, EducationQuest's Exploring College booklet suggests that students spend time Finding The Right Fit possible career interests. Once students have identified these interests and discovered potential career options, the freshman year is a great time to take high school classes that will help them prepare for future plans, research colleges, and explore careers. The LSW Counseling Center's website features a variety of resources for career exploration with a partial listed featured below:
Career Cruising/Xello

Looking for career info, check out Career Cruising/Xello by following the instructions listed below:

Log on to Chromebook
Go to the Portal (lps.org then enter Portal in the keyword/search box)
Click on the Career Cruising / Xello icon
Starting October 30th, counselors will begin scheduling small group meetings with their assigned freshmen to learn more about their interests, review the 4-year plan, assist with navigating their high school journey, discuss upcoming course selections for the 2020-21 school year, and visit about short- and long-term goals that will assist with planning for the future.