Volunteer as a Bright Lights Classroom Assistant
Click here for more information and to apply.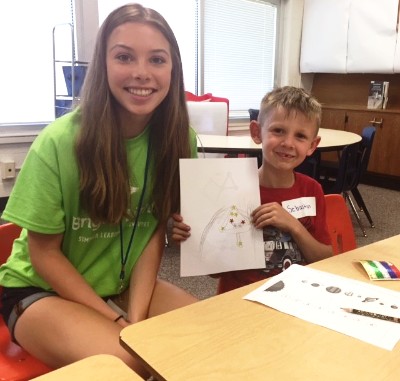 Bright Lights Classroom Assistants play a valuable role in the summer program. Their commitment helps support the teachers, ensures student success, and provides a rewarding experience that makes a difference in the classroom.
Summer is a great time to complete volunteer hours for GOPO, service hours for the parochial schools, or other service project hours. To meet the required 20 hours for GOPO or service hours, assistants must attend the orientation, assist the teacher with classroom setup, and be in attendance for the full program week.
In addition to volunteers skilled in working with children, Bright Lights needs assistants who have specific proficiencies, such as photography or sewing, or who have a high level of interest in specific topics such as art, history or literature.
Bright Lights welcomes students who have completed ninth grade, college students, and adults. On average, 250 assistants are needed each summer for the half-day classes, international program, and full-day camps. Most classes utilize two assistants and many assistants return for several summers in a row.
Not only do the Classroom Assistants contribute to the success of the classroom, but they will also:
Learn about behind-the-scenes classroom preparation and planning.
Develop skills in classroom management and organization.
Expand their proficiency in developing positive relationships with both children and adults.
Enjoy exciting and fun experiences with other assistants.
If you are interested in learning more about other cultures or obtaining a college degree in International Studies, you may consider assisting in one of the classes in the Bright Lights International Program. The classes are composed of both Japanese and American students.
As a classroom assistant, you will have an opportunity to explore the field of education as a career option.
The Lincoln Police Department and the Lancaster County Sheriff's Office
2018 SRO Summer Youth Academy
UNL – DREAMBIG Academy
Sunday through Thursday, July 22-26, 2018
The DREAMBIG Academy (Develop, Risk, Empower, Achieve, Maximize, Build, Innovate, Grow) provides diverse, upcoming high school seniors the opportunity to learn about the dynamic world of business and potential career opportunities at the College of Business of the University of Nebraska–Lincoln. The summer academy emphasizes leadership, networking skills and success in the business world. The week will also consist of fun activities across the University campus including staying in a residence hall and meeting new friends from across Nebraska. Participants qualify for the Nebraska Emerging Leaders Scholarship of $2,000 for completing the program and meeting academic requirements their senior year in high school.
Click here for more information and application.
CHI St. Elizabeth Nebraska Heart
Summer Internship Program
May 29 – June 22
Monday – Friday 7-11 a.m.
Summer Camp
June 4-8
Monday – Friday 7 a.m.-7 p.m.
For information and applications click, HERE.
2018 Young Nebraska Scientists
Young Nebraska Scientists opens applications for 2018
Registration is open for YNS camps throughout the state in 2018, including.  Camp grade level in parenthesis.  Grade levels are based on CURRENT grade level.  Students in 8th grade today would attend our middle school camps:
High School Camps
CyberCamp,(7-12) June 6-9 at the University of Nebraska at Kearney, for middle and high school students;
Life Underground: the Unseen Power of Microbes,(9-12) June 17-20 at UNL, for high schoolers;
Biodiversity Field Science, (10-12) June 24-30 at UNL Cedar Point Biological Station (Ogallala), for high schoolers;
High School Research Positions
For the past 10 years, each summer more than 100 youths attend YNS camps, which include hands-on science experiences and recreation opportunities at college campuses throughout Nebraska. YNS camp fees include meals and lodging, except Secret Life of Metals and Soil and Plants in Agriculture (day camps only). A select group of students are chosen to be YNS High School Researchers, with paid summer jobs in the labs of university scientists.
Application deadline is March 20 for YNS high school research positions and April 15 for YNS camps.
YNS is conducted by Nebraska EPSCoR with support from the National Science Foundation, to encourage youth participation in science, technology, engineering and math (STEM) learning and careers. NSF support helps keep YNS camp fees low; faculty from Nebraska colleges and universities are camp leaders, and camp staff include university students. For information and online applications, see http://yns.nebraska.edu.